Costa Rica Photo Safari
April 17 - 27, 2009
Donald L. Cohen, MD - DLC Photography
Workshop Leader Biography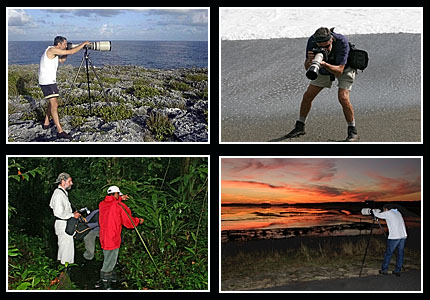 Don Cohen became interested in nature and wildlife photography while studying Fisheries Biology in College and Graduate School, in the early 1970's. But the demands of a growing family, and a career shift to Medicine, caused this to be put on the 'back burner' for several decades. In late 1998, his fascination with computers converged with his dormant interest in photography, resulting in the purchase of a digital camera (the Nikon Coolpix 900s). His involvement in Photography has grown exponentially since that first purchase, and he has spent countless hours pursuing his newly awakened passion, covering a wide variety of areas: artistic, technical, equipment, the unique needs of working digitally, etc.
In terms of equipment, he is now shooting with the Canon 1DMkII, an 8.2 megapixel digital SLR capable of shooting at 8.5 frames/second, with an ISO range from 50-3200. His passion for photographing birds led to his acquiring the Canon 600L/f4 IS, perhaps the best birding lens out there, along with a wide variety of other lenses and accessories.
He started his website (www.dlcphoto.com) in early 2001, which now contains well over 500 images from a wide variety of locations both inside and outside the United States (Costa Rica, New Zealand, Fiji, Grand Cayman, Nova Scotia, New Brunswick, Maine, Utah, Arizona, New Mexico, North and South Carolina, Georgia, Florida, Virginia, New Jersey, Delaware, Wisconsin, etc.). His website also contains information on a wide variety of topics helpful to both beginning and advanced photographers.
He was recently named the Senior Photographer for Alive, official magazine of the North Carolina Zoo, and his images have appeared on many covers of this quarterly magazine. He received First Place in the Member's Choice contest at the 2004 Carolina Nature Photographer's Association Annual meeting, which was the first time he attended this conference. In addition, his work has appeared in Lake Norman Magazine, Digital Camera (a United Kingdom periodical), and a variety of other publications. All this has been accomplished while still working full-time as an Ophthalmologist in his home town of Mooresville, NC. He sells prints both through his website, and through merchants in his home town.
He has led groups of photographers on several previous "Photo Safaris" to Costa Rica. In addition, he is now offering Photography Workshops in conjunction with International Expeditions, where destinations will include Brazil, Panama, the Amazon River, etc. He has made presentations to numerous Photography Clubs and other organizations, and now that he has taken a partner in his medical practice, will be devoting more and more time to photography and related pursuits.
---
For all inquiries and questions, my contact information is:
dlc@dlcphoto.com
704-664-6077 - phone
704-973-7778 - fax
To make a reservation, email John Aspinall at:
jaspinall@fix.net
Costa Rica Photo Safari April, 2009 - Home Page
DLC Photography Home Page